1. Introduce yourself! Divulge your life's vision, likes, dislikes, aspirations, or something completely random! My name is Reyna, and I am a home schooled sophomore in high school and a daughter of the King of Kings. People say that I was born in the wrong century, and as much as I would love to have lived in a different time period, I know that I am here for a reason and live only to serve my Lord. I am a big fan of novels and period drama (you could probably tell), and also The Lord of the Rings. Books rule! Our family has a small 'farm' in a suburban neighborhood, and I dream of the day that I can move to a real farm where I don't have to stress over the chickens waking up the neighbors or a stranger to the city complaining about the fact that I have a goat. I have a wonderful mom and dad and a brother two years younger than I, and although I wish I had a sister, I make do with what I have. :) Aspirations, let's see... I am trying to write a novel right now, and am planning to get done with two years worth of college classes before I graduate high school.
2. What, to you, forms the essence of a true heroine? A true heroine to me is someone who can put aside her own desires in order to serve another. Ultimately, that other is God, but it also transfers to people. She is strong, capable, submissive, and caring. Although her beauty may not be physical, it is evident in everything she does. A true heroine embodies Proverbs 31; although she most definitely is not perfect, and may have many lessons still to learn.
3. Share (up to) four heroines of literature that you most admire and relate to.
Margaret Hale is one of my favorite heroines. I loved North and South (Elizabeth Gaskell), and really like Margaret in the BBC miniseries as well.
Molly Gibson is high on my list as well (Elizabeth Gaskell's Wives and Daughters). She is caring and kind, and yet when she has strong feelings about something she voices her thoughts directly. She also gets rather huffy when she's around someone she doesn't like, which I do as well - and I don't think that is necessarily a good character trait. I'm working on it. Molly is patient and unselfish with regards to risking her reputation, and with Roger, and I admire her for that very much. (She also cries quite a bit, which I am prone to do as well. My mom and I just cry over everything, which is inconvenient sometimes).
Marianne Dashwood (Sense and Sensibility by Jane Austen) is much like my romantic side. I got her for the Austen heroine quiz and think that that is reasonable.
Ligia from Quo Vadis ( Henryk Sienkiewicz). She is the picture of a true Christian, and, I guess you could say, my role model.
5. Five of your favorite historical novels?
Quo Vadis - mentioned above.
Uncle Tom's Cabin (Harriet Beecher Stowe).
Does North and South count as a historical novel? It has some neat stuff about the industrial revolution, so I hope so.
Les Miserables by Victor Hugo.
The Scarlet Pimpernel by Baroness Orczy.
6. Out of those five books who is your favorite major character and why? Why Sir Percy, of course! Sir Percival Blakeney is the ultimate hero. If you've read that book, which you should have, it needs no further explanation.
7. Out of those five books who is your favorite secondary character and why? Nicholas Higgins from North and South. I love how he rally stands up for what he believes and yet is so sympathetic and caring towards people such as Boucher and his family.
8. If you were to plan out your dream vacation, where would you travel to - and what would you plan to do there? I think I would go to New Zealand. As much as I would love to go to England and France and visit all of the cool historic places, I think New Zealand wins. I would want to go on like a two or three week hike/camping trip all around the islands. Carry just what I need and lots of lembas bread. New Zealand, in my opinion, is the most beautiful place in the world.
9. What is your favorite time period and culture to read about? Early Victorian and French Revolution and Medieval and Regency and Roman Empire. Most everything there is. Especially in England.
10. You have been invited to perform at the local charity concert. Singing, comedy, recitation - what is your act comprised of? Singing.
11. If you were to attend a party where each guest was to portray a heroine of literature, who would you select to represent? Eowyn from LOTR or Margaret Hale.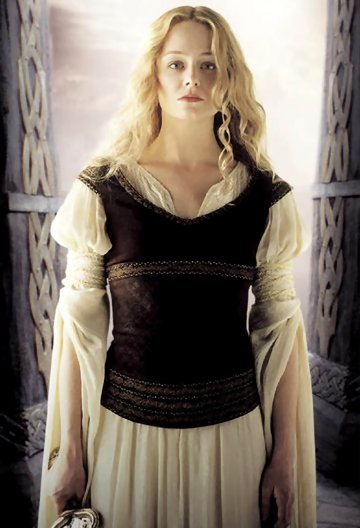 12. What are your sentiments on the subject of chocolate? It dilates the capillaries in your kidneys. Sorry peeps, it does.
13. Favorite author(s)? Elizabeth Gaskell, Jane Austen, J. R. R. Tolkien, Charles Dickens.
14. Besides essentials, what would you take on a visiting voyage to a foreign land? My journal and lots of skirts to wear. And lots of yarn and my needle case. But I suppose that those too are classified as essentials.
15. In which century were most of the books you read written? Maybe nineteenth?
16. In your opinion, the ultimate hero in literature is… A man of God. Jean Valjean. And Sir Percy, of course.
17. Describe your ideal dwelling place. A hobbit hole. Or a Rivendell or Mirkwood castle themed house.
18. Sum up your fashion style in a short sentence. Victorian tones on some days and Elvish tones on others.
19. Have you ever wanted to change a character's name? No, not that I can recall to mind within five seconds.
20. In your opinion, the most dastardly villain of all literature is... I just looked up the meaning of the word 'dastardly'; it means 'mean and cowardly'. I think that fits Satan pretty well. Also, Sauron from the Silmarillion, the Hobbit, LOTR, etc.
21. Three favorite Non-fiction books? The Bible (of course), The Hiding Place (Corrie ten Boom), and my Standard Dictionary of Facts from the thirties.
22. Your duties met for the day, how would you choose to spend a carefree summer afternoon? I would knit some, and then take my journal, a book, and a pen out to the creek bank to relax. I would sing while I was out there too and play with my goats. Once it started getting dark, I would come inside and play my lovely upright piano.
23. Create a verbal sketch of your dream hat - in such a way as will best portray your true character. No hat please; unless it is very sunny. Then I will take a short-crowned sun hat - brown like Margaret Hale's. Otherwise, I prefer to feel the wind through my hair. Like this:
24. Share the most significant event(s) that have marked your life in the past year. I stopped ballet, started coming to the youth group at our church, had a grandparent pass away for the first time, and started college.
25. Share the Bible passage(s) that have been most inspiring to you recently. All of Proverbs, basically, as well as James 1:2-4.

Consider it all joy, my brethren, when you encounter various trials, knowing that the testing of your faith produces endurance. And let endurance have its perfect result, so that you may be perfect and complete, lacking in nothing. (NASB)
Blessings,
Reyna